Regular price
Sale price
$24.99 AUD
Unit price
per
Sale
Sold out
We use Australia Post Carbon Neutral Shipping: 2-5 Days $9.99, 1-3 Days $15 or StarTrack Premium $20
Order before Midday and we Dispatch the same day
Found a Cheaper Price we will beat it by

5%
The SwitchBot Meter Plus (New version of the SwitchBot Thermometer & Hygrometer) Alexa, iPhone & Android Compatible
SwitchBot Meter Plus - 
Wireless Temperature Humidity Sensor with Alerts, Add SwitchBot Hub Compatible with Alexa, Google Home, HomePod, IFTTT
The SwitchBot Meter Plus makes your life easier:
Create the ideal bedroom environment for sleep and record local temperature and humidity 24/7 with smart alerts that can notify you when the temperature range is exceeded.

Place Meter Plus in your baby room to monitor indoor temperature and humidity in real time for sensitive infants.

Keep track of greenhouse temperature and humidity throughout the day, making sure all your green life is kept in good hands and at optimum level.
Features:
The SwitchBot Meter Plus now features a 3-inch clear LCD screen that makes it easier to see temperature data, and with its simple, easy-to-read indicators (dry/comfort/wet) you'll be able to keep an eye on indoor humidity at all times. 

Always accurate - The Swiss-made sensor monitors the environment reliably and 24/7. Manage the temperature and humidity in the most accurate way.

With a durable kickstand and magnet, SwitchBot Meter Plus can be placed anywhere.

With SwitchBot Hub Mini (sold separately), you can take advantage of Alexa and get indoor temperature readings with simple voice commands. You can also get alerts via Alexa when the temperature goes above or below your preset range with real-time notifications will be sent to your phone no matter where you are. Supports Alexa, Google Home, Siri Shortcuts, Line, and SmartThings.

SwitchBot Meter Plus helps detect indoor temperature and when out of range will automatically turn on your air conditioner to lower the temperature when used with SwitchBot Hub Mini (sold separately).

Our app allows you to view 68-day curve graphs that help provide a clear data track that can also be exported. And with SwitchBot Hub, unlimited SwitchBot Meter Plus data can be stored in the cloud. You can even check the temperature and humidity in your house when you are away from home.

Connect multiple devices at the same time with one smartphone, and you'll be able to monitor and record temperature and humidity in every corner of your home. With SwitchBot Hub Mini (sold separately), no matter where you are, you'll be able to get instant notifications when temperature or humidity falls below or rises above your personalized limits.

The SwitchBot Meter Plus uses a low-power Bluetooth chip which means that two AAA batteries are able to provide enough power to last you a whole year.
PRODUCT DETAILS:
Connectivity: BLE 4.2 or above, communication range up to 120 m (roughly 394 ft)
System Compatibility: iOS 11.0/Android OS 5.0 and above
Batteries: AAA x 2
Battery Life: Approx. 1 year
Display: 0.1 ℃ or 0.1 ℉,1 %RH
Measuring Range: -20 to 80 ℃ (-4 to 176 ℉) , 0 to 99 %RH
Typical Temperature Accuracy: -20 to 0 ℃ (-4 to 32.0 ℉) [±0.4℃ / 0.7℉] 0 to 65 ℃ (32 to 149 ℉) [±0.2℃ / 0.4℉] 65 to 80 ℃ (149 to 176 ℉) [±0.3℃ / 0.5℉]
Typical Humidity Accuracy: 10 to 90 %RH (±2 %) 0 to 10 % and 90 to 99 %RH: (±4 %)
Share
View full details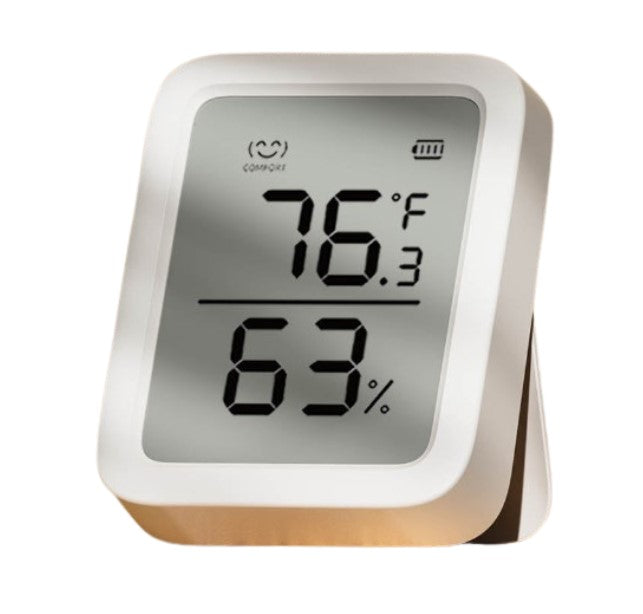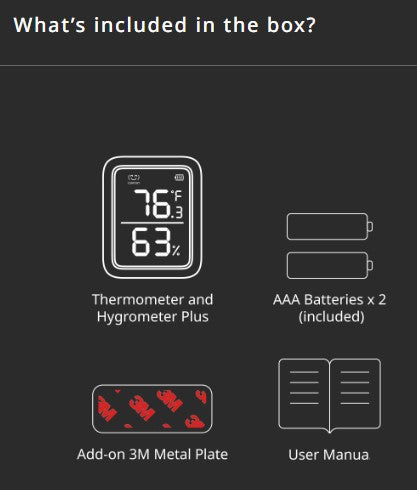 Easy setup, great thermometer/hygrometer
I bought 3 Meter Plus and a SwitchBot Hub Mini Smart Remote.
Setup was easy, with both the SwitchBot app and then integration with my Google Home setup all going fine. The screens on the Meter plus are easy to read both the Temp and Humidity. And Google of course can tell me the readings at the various locations too.
The magnetic back is handy on a fridge or other metal equipment, and the built-in stand is great on shelves. There is also a keyhole fitting for hanging on a screw, and I would recommend this over using the supplied stick on metal plates. The metal plates do work, but it seems there is not enough metal to hold the meter on very tightly. I think if these were used on a moving item such as a door, or used somewhere they might be knocked, then it would not be good enough.
One meter is about 20m away from the hub and the others are within 4 meters, but through a wall. No problem with connections.
I am very happy with the SwitchBot equipment, it seems great value for money.
Oz Smart Things were great, and sent out the equipment promptly, and also answered my question (Does it come with the batteries? - Answer Yes) very quickly on a Saturday evening!