Apple
 

HomeKit

 

is a user-friendly platform for anyone who owns an iOS device and is interested in a simple, reliable DIY smart-home system.

 

To see all our Homekit product click here!

With a couple of HomeKit-compatible devices and an iPhone or iPad, you can start from scratch and have an integrated system up and running in a few minutes. Control your HomeKit system via the Siri voice assistant built into Apple phones, tablets, computers, and watches, or from Apple's HomePod smart speaker.

 

If you go with HomeKit as your smart-home platform, you aren't necessarily trapped by your decision. Many popular HomeKit-compatible devices also work with Google Assistant and Alexa.

If you're ready to explore what Apple HomeKit has to offer, we've selected our top picks from our store and useful categories of smart-home devices.
Best hub for HomeKit
Best smart light switches for HomeKit
Best smart plugs for HomeKit
Best smart thermostats for HomeKit
Best smart door locks for HomeKit
Best smart sensors for HomeKit
Best hub for HomeKit
If you want to stay in touch with your smart devices when you leave home, you need to add an Apple TV (or an iPad or HomePod) to your home network. Once connected to your HomeKit system, it acts as an Internet gateway, allowing you to monitor or control devices remotely, using apps on your iPhone or Apple Watch, as well as voice commands through Siri.
Alternatively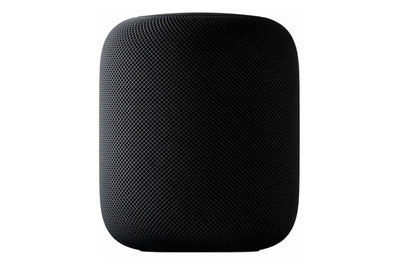 Apple HomePod
Apple's first HomeKit-enabled speaker also serves as a hub and can put excellent sound in any corner of the house.
The Apple HomePod is the only voice-controlled speaker that also acts as a HomeKit hub—and you're going to need one of those if you plan to use HomeKit outside of the house to do things like turn on lights, adjust temperatures, lock doors, or get alerts based on smart-home activities. An iPad or Apple TV also acts as a HomeKit hub, but it's much easier and more realistic to have multiple HomePods around the house, since they also play music. It can also deliver weather forecasts, trivia questions, and calendar appointments on demand, as well as make and take phone calls.
Best smart light Switch for HomeKit
Best smart plugs for HomeKit
See your energy consumption at a glance, and view beautiful graphs by day, month or year. Gain insights that help you improve your comfort, and make your home a smarter place.
Use Siri on your iPhone, iPad, or iPod touch to control your devices connected to Eve Energy with just your voice. Assign custom names to your devices, combine them into groups, and create scenes to control multiple home settings in just one step.
Best smart thermostats for HomeKit

While observing current conditions is convenient, delving into historical detail is enlightening.Eve Degree equips you to do both with elegance and precision. Inside or outside your home. Create powerful rules to automate your accessories and connected appliances.

Have your humidifier switch on automatically, but only if Eve Degree registers a drop in humidity or have your fan swing into motion, provided that the temperature has exceeded your comfort level.

Set scenes in a flash via Siri, your Control Center, or Apple Watch.
Best smart door locks for HomeKit
The Danalock V3 is the third generation of motorized smart lock based on the feedback from early adopters customers and the latest development in data security and smart home technology. Smaller, stronger and easier to install the Danalock V3 takes the lead in the smart lock market and is setting new standards for years to come.
Easy access
With Danalock sharing access with relatives and friends is extremely easy, you can receive a notification when the lock is used - and by whom - along with impressive features that eliminate the problems of mechanical keys. And in addition, Danalock senses your presence and knows just when to unlock or lock the door (which is similar to how modern vehicles operate).
Best smart sensors for HomeKit
Extremely versatile 4-in-1 Fibaro HomeKit sensor combining motion, temperature, light level and vibration functions.
PIR (motion), light level and temperature sensors and detects vibrations
Tamper and low-battery alarm notification
The very small size makes it ideal for any system
The Fibaro Motion Sensor is a universal HomeKit multi-sensor that combines a PIR (Motion), light, temperature and accelerometer (vibration) sensor, all in one tiny package. The Fibaro Motion Sensor is a battery-powered device and designed to be installed quickly and easily on any surface.
Can't find what you are looking for? Send us an email: info@ozsmartthings.com.au
We are also on YouTube where we post many useful videos on our products