---
---
Product shipping info: We use Australia Post. Prices are: Standard for $9.99 or Express for $15, Airmail to NZ for $22!
Arylic A50 Multi-Room Audio Streamer Speaker Amplifier with AirPlay, Spotify
✅WIRELESS STEREO AMPLIFIER:Add wireless/network streaming capability to your current speakers, home amplifiers ,home stereo or receiver.

✅POWERFUL HQ SOUND: A50 class d digital amplifier is capable of delivering 50W per channel at 24V with 4 ohms and 35W at 24V with 8 ohms. It is paired with an internal DAC that supports up to 24bit/192kHz decoding to provide high quality sound quality to your speakers.

✅Multiple Music Sources & Protocols: Supports Spotify, Tune in, iHeartRadio, XIMALAYA, QQ Music, TIDAL, Napaster, Qobuz, QQFM, Deezer etc. And airplay1, Qplay, DLNA, UPnP protocols. Also Other audio sources for local music, USB flash drive, NAS and line inputs.

✅Application: Advanced circuit design with built-in speaker protection circuitry, best suited for your home bookshelf/celing/desktop/speakers; recommended for home TV audio, computer audio system games, tower speakers and garden speakers. If you have high knowledge in the audio field, the small and compact design is also suitable for car audio system. You cans enjoy high quality music everywhere!

✅MULTIROOM STREAMING: Set multiple Arylic devices connected on the same network, then you can start to stream your audio by a smart phone or a tablet. Through our 4stream app you can control to play the different audio or same sound simultaneously on each devices.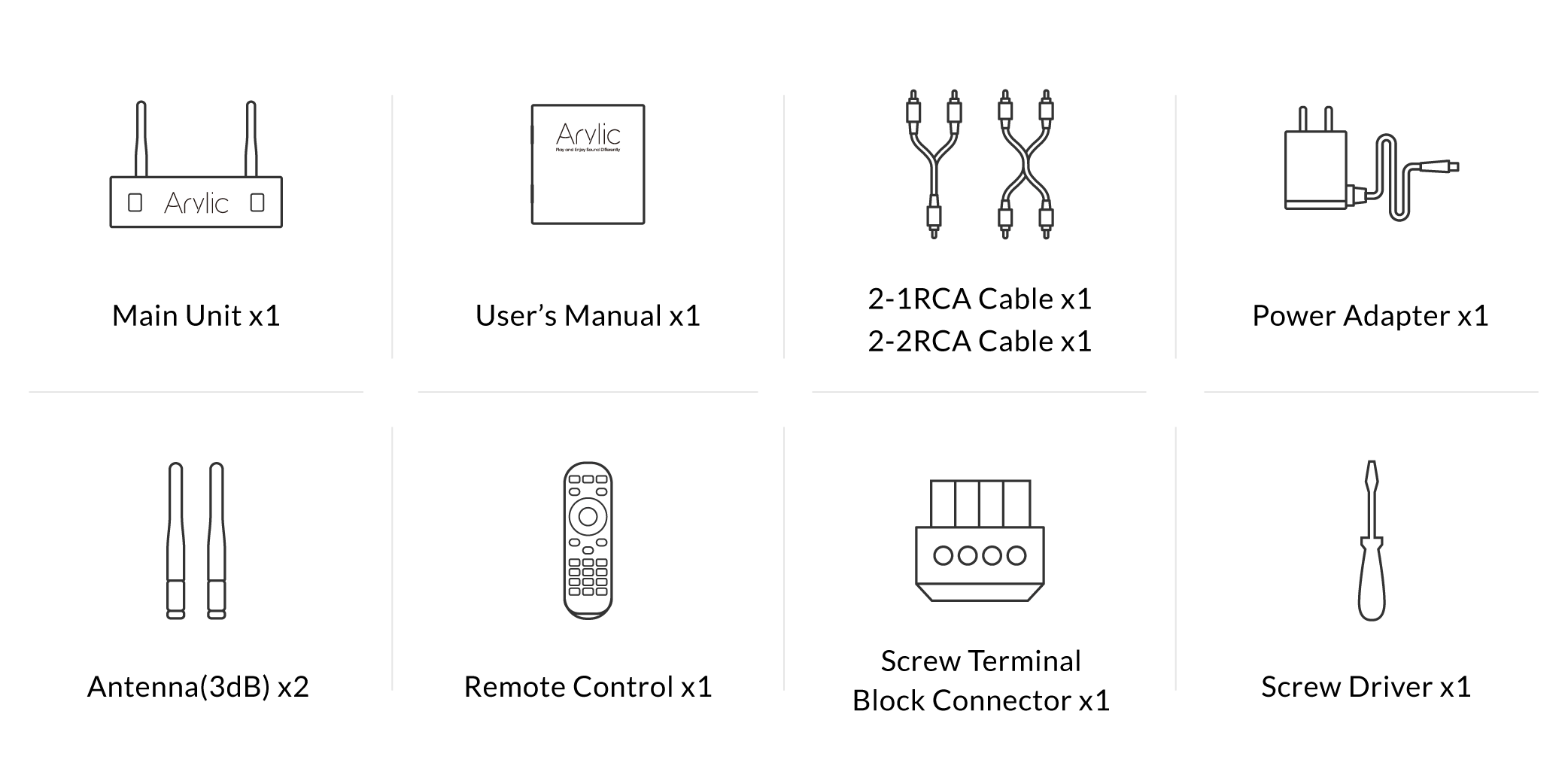 Multi-room Wireless Stereo Amplifier for Speakers
A50 is a digital integrated stereo wireless Amplifier for speakers. You can stream your audio wirelessly to your speakers by Wifi, Bluetooth 5.0, Airplay, DLNA & UPnP. It is the simplest way to enjoy music wirelessly.
---
Add Wifi and Bluetooth 5.0 to your Whole House Audio
Stream More Stable with Wifi

Wifi Streaming is more stable than Bluetooth without audio compression, latency. Give you better experience with music streaming.




Home Stereo System

A50 Amplifier equipped with 50W *2 stereo pair. Which allows you to experience theater like audio at home.




Brilliant Sound

We designed with premium STA326 DAC inside an A50 wireless amplifier which allows better sound performance and audio processing.
Build up your Whole House Audio

By 50W*2 Dual stereo channel and multi room features, with only a phone you can control your whole house audio and enjoy Hi-Res Music in every corner.
Upgrade All your Stereo into Wireless system

By adding an A50 wireless amplifier to your stereo devices, like audio receiver, ceiling speakers, bookshelf speakers, on wall speakers and other passive speakers. Then you can stream audio and control sounds easily and wirelessly.

All Musics you like

a

Huge music resources supported like Spotify, Amazon Music(US Only), Tidal, Deezer, Qobuz, Internet Radio, iheartRadio, Napster etc. Other than online music, you also can play local music by NAS, USB storage where you have collected your favorite song for years.




Wireless Connectivity

Streaming your audio all the way by Wifi, Bluetooth 5.0, DLNA, UPnP, Airplay, Spotify Connect.




Free iOS & Android App

Our App is called "4stream" and is compatible with your iOS & Android system. All the features can be simply controlled. And you also can receive the notification for our regular online firmware update automatically in 4stream.



How does the wireless system work?
By connecting our wireless amplifier products to your home audio system, you can wirelessly stream any of your favorite audio sources, such as popular online music media (Spotify, Amazon Music(US only now), Tidal, Deezer, Qobuz, Napster, QQ Music...etc.). Online radio stations (Internet Radio, Tune In, iHeartRadio, QQFM) local music, USB storage devices and NAS. You can also use line in mode to input the sound of your TV, Video Game, receiver or CD player. The wireless system refers to the wireless console, which means that you can stream and control your audio source wirelessly, but the output side still needs to be wired to a properly configured device. Most common output devices that amplifiers connect to are passive speakers, you can refer to this video to learn how to connect the output to your speakers. And the wireless streaming protocols we support are Wi-Fi, Bluetooth 5.0, Spotify Connect, Airplay 1, DLNA, Upnp, QQ play and so on.
What devices can I apply with?
Before you purchase audio amplifier products for your home stereo system, you need to check if there is a corresponding interface. Take the A50 wireless amp for example, the A50 has a set of RCA in (line in) ports, so if the audio equipment you want to input has RCA out (line out) ports, you can wired your audio products to our amplifier via a 1-2 RCA cable or a 2-2 RCA cable, and the A50 package contains 1-2 RCA*1 and 2-2 RCA*1. The amplifier is usually wired to passive speakers, such as Bookshelf Speakers, Ceiling Speakers and on-wall speakers. Others will connect an RCA Out (line out) to their more powerful amplifier and use it with our wireless system for better sound performance and the convenience of wireless control. Also, you can connect your current vintage audio receiver to upgrade your home audio system wirelessly.
How many zones can I connect at once?
There is no limitation and it is based on your configuration. We recommend you set up with 10 units at once. To exceed 10 units or long range with distance, we advise you to wire with Lan to make the signal more stable.
---