---
---
Order your products today choose express shipping and receive your package between and
Anyware Smart Adaptor – DIY Light Dimming with a Sound, Humidity, Lux and Temperature sensor
Compacts all the tools needed for a smart home and home security in an easy to use DIY Device
Compatible with Amazon Alex, Google Home and IFTTT
Introducing Anyware

Fit the Anyware Smart Adaptor into your lamp socket
- and start enjoying automated smart home monitoring - at home or away - improved home security and awesome lighting control features!
Get Smart Lighting with normal non-smart LED light bulbs
Lighting Control is only one of the many benefits you get with the Anyware Smart Adaptor™
LIGHT DIMMING
Dim your light in the Anyware App
DOUBLE-TOGGLE
LIGHT SCHEDULES
Set your light preferences in the Anyware App to suit your needs and daily schedule
PRESENCE DETECTION
Turn ON light automatically when entering a room. 
Go to bed without turning OFF the light, as Anyware will do it for you when the room is empty
ENERGY SAVING
Light turns OFF when you leave to help you save energy
WAKE-UP LIGHT
Dim the lights in your bedroom slowly to wake you up
PREVENTIVE BURGLAR LIGHT
Prevent burglary by automatically making your home look occupied when you are away
As featured in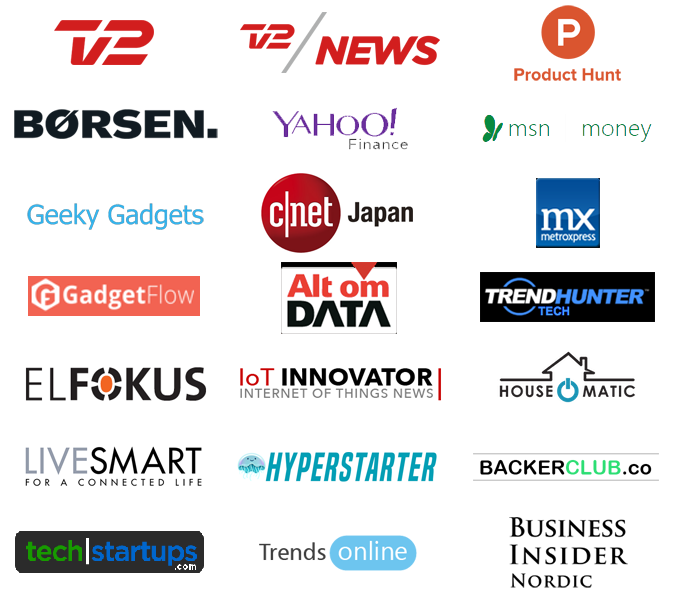 Improve your Home Security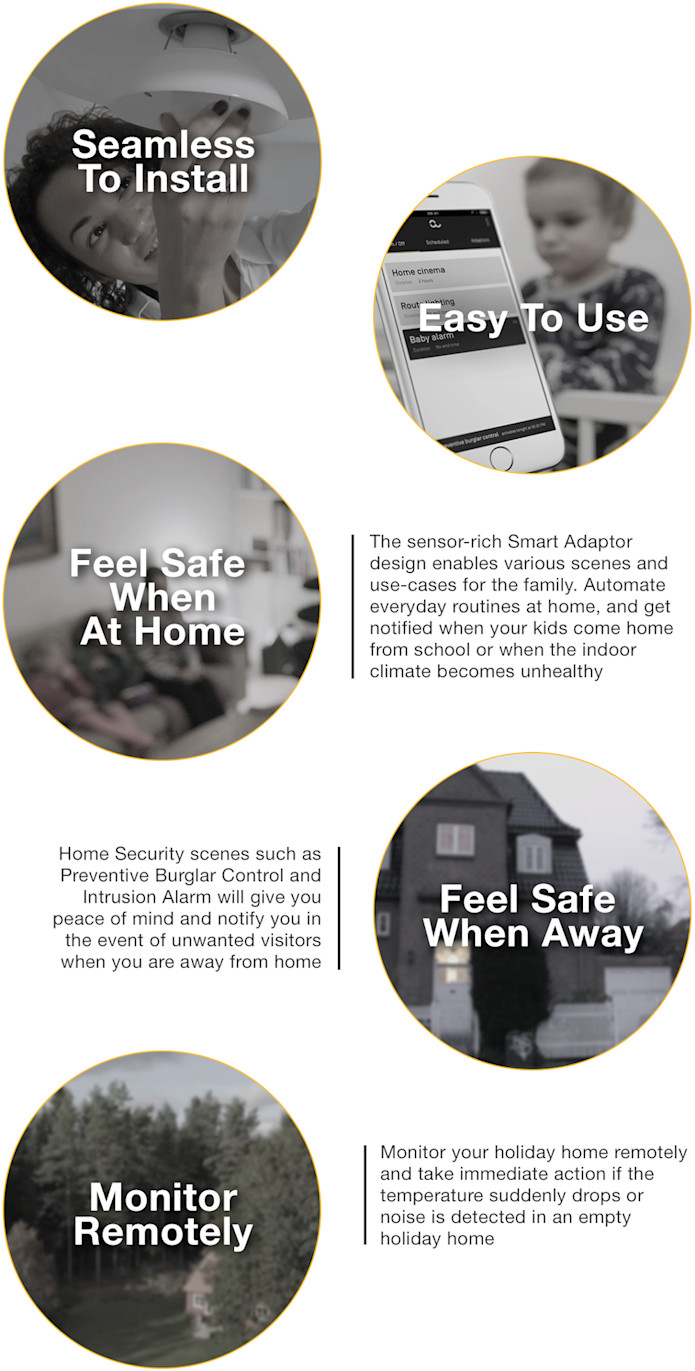 What do you get?
An easy set-and-forget solution!
Peace of mind
Rest assured that your house looks occupied whenever you are away – during weekdays, on weekends and holidays
Rest assured that you or someone you trust will get notified in case of intrusion
Rest assured that you will receive a message when your kids arrive home from school
Automation
Automate meaningful scenes and notifications
Automate your lights in meaningful scenes when you get up at night, arrive home, leave home, put your kid to bed, and much more.
Insight
How is the indoor climate in my home? Get notified if your indoor climate becomes unhealthy
When did the kids fall asleep?
What is the state of my holiday home after the storm last night? 
Easy to use
Your automated routines are organized in 'scenes' that you manage in the app. You can of course also read the status of your sensors and control the lights from the app.
The following scenes will be available out-of-the-box:
Intrusion Detection

 

(based on sound detection when you are away)
Preventive Burglar Control

 

(random lights making your home look occupied when you are away)
Energy Saving Mode

 

(lights off when you are away)
Indoor Climate Monitoring

 

(based on temperature and humidity sensors both when you are at home and away)

*This Device will be shipped directly from the supplier and is taking around 1 week to be shipped. The product is going through SAA approvals for Australian Compliance, once approved it will be stocked in Australia.
---